Your first choice to make a difference in any production environment in terms of performance, efficiency, and quality
Sachman T/TRT314 are large bed-type milling centres with 3+2, 4+2, 5 and 6 axes ensuring maximum versatility in every application, from general precision engineering to automotive moulds and components, to aeronautical structural parts.
Available with moving table along the longitudinal axis, model T314, or with rototraversing table, model TRT314, they feature a "T" structure characterized by the transversal movement of the column and by the absence of ram, which guarantees a high and constant operative accuracy during all phases of part machining.
All models of the T SERIES use cast iron structures, widely dimensioned for the best balance between rigidity, vibration dampening and performance. In particular, the column is characterized by a decreasing section from the base to the top in order to reduce the inertia without penalizing the stiffness. The large distance between the Z-axis guides and the head also allows for machining and rotating large components.
Specific attention has been paid to chip removal, with a basic double-auger system on the column sides, to which belt conveyors can be added for large volume removal.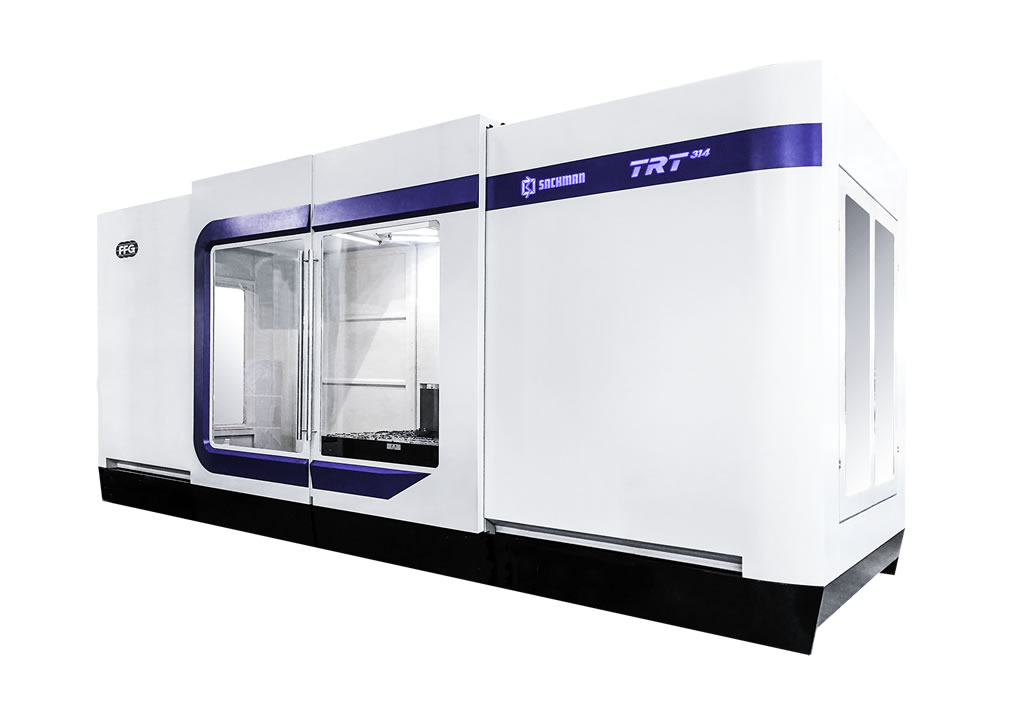 Technical features
Longitudinal X-Axis 2500-3000-3500-4000 mm
Traversing table (T314) or rototraversing table (TRT314) with large load capacity
Transversal Y-Axis 1600-1800 mm
Vertical Z-Axis 1500-2000 mm
Speed up to 35 m/min
Universal indexed/continuous milling heads or continuous fork-type twist heads mechanically driven or with electrospindle are available
Several tool magazines available:

Rototraversing chain-type from 24 to 48 positions, with tool change in vertical position only by a "pick-up" system
Chain-type from 40 to 120 positions with mechanical hand for tool change in vertical and horizontal position

Tool cooling systems external and/or through tool and chip evacuation systems
Tool measuring and probing systems
Automatic pallet systems