LINX linear motor gantry family: very high-speed 5-axis machining culture
LINX, a very high-performance vertical milling machine, is the first model in the same name family that gained a top-spot position on the market, thanks to its advanced technological content focused on the use of linear motors on middle-large size machines.
The use of these motors on all linear axes, combined with the high-rigidity structures, allows high performances in terms of dynamics, drastically reduces machining times, ensures very high accuracy and finishing quality, guarantees cut-down maintenance due to fewer wearable components, and improves working environment quality for its silent functioning provided by the absence of mechanical transmission.
LINX milling machines feature a modular design based on a system of multifunctional subassemblies allowing wide possibilities of customization in terms of machining applications as well as plant layout. They are equipped with a complete work area enclosure according to the most modern environmental protection and safety regulations.
LINX has been conceived according to JOBS Green Vision, resulting in a significant reduction of power consumption.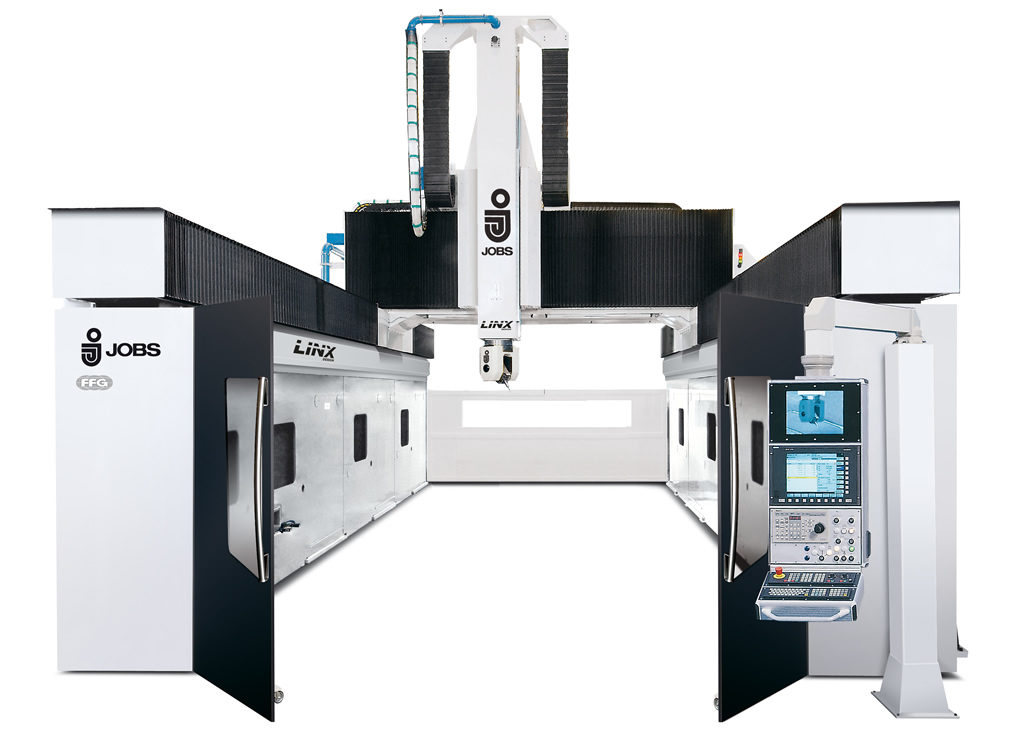 Technical features
X-Axis 2000-4000-6200 mm +Δ 2000 mm
Y-Axis from 2000 to 6000 mm
Z-Axis from 900 to 2500 mm
Speed up to 70 m/min
Very high acceleration
A wide range of fork-type twist heads for 5-axis machining with the best electrospindles to perfectly fit your application requirements:
Up to 125 kW for aluminium machining
Up to 550 Nm for an effective machining of steel and cast-iron
Performing grease-lubricated 24000 rpm electrospindle, for composite and resin machining
Spindle cartridges are equipped with a standard interface allowing quick and easy change for maintenance purposes
Fixed worktable with different loading capacities
Folding top cover with automatic opening to access work area
Wide range of tool magazines available:

Direct chain from 16 to 40 positions
Single/double chain with double gripper change arm from 48 to 96 positions
Rack type with large storage capacity for up to 300 tools and possible second change arm for double work-area

Tool cooling systems external and/or through tool and chip evacuation systems
Tool measuring and coding systems, probing systems
High-efficiency dust suction systems
High-accuracy countersinking systems with depth dynamic control, with or without integrated suction
Systems designed for wet or dry (Jobs' patent) composite machining, as well as wet & dry combined machining, including wastes collection and compacting
Work area separation into two operating zones for pendulum operation: part machining in one area and loading/unloading in masked time in the other
Automatic pallet systems
Remote surveillance systems