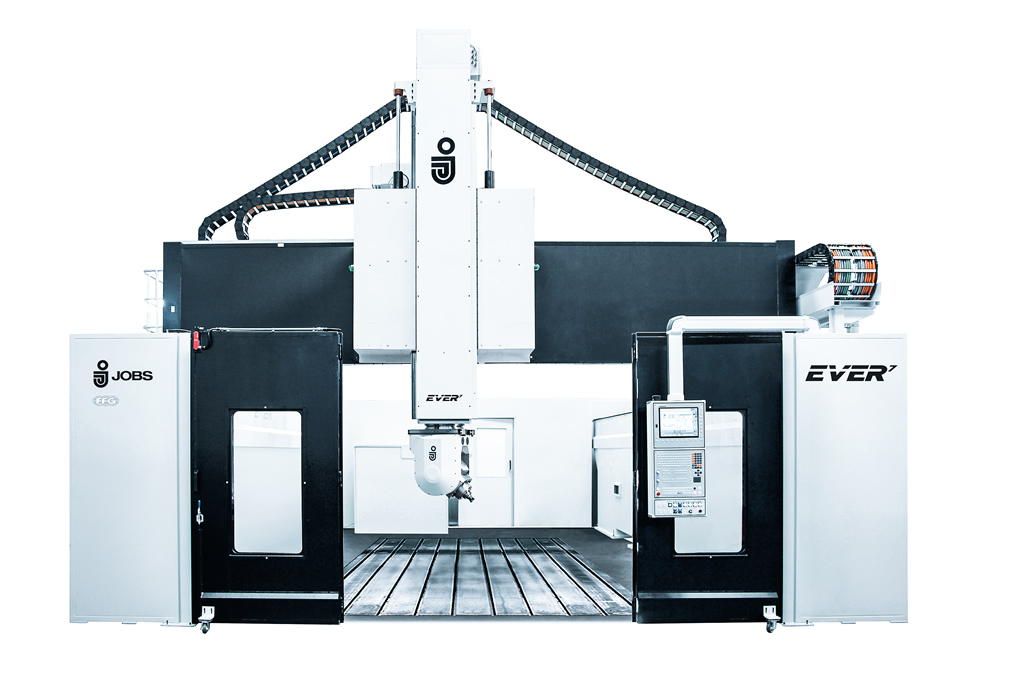 Top rigidity and dynamics ensured by the crossbeam structure with "MT-frame" multi-triangle section
Effective mechanical and kinematic system with dual drive on all axes
Minimized hourly and operating costs for a rapid return on investment
Compact architecture with excellent enclosure for an efficient containment of chips and machining fluids
The best trade-off between high dynamics and high material removal rate
EVER 7 is medium-size overhead gantry milling centre for 3/3+2/4/5-axis machining with high dynamic performance and chip removal capacity ensured by its crossbeam "MT-frame" multi-triangle section structure and the effective mechanical and kinematic system with dual drive on all axes.
EVER 7 therefore represents the ultimate solution to meet the typical technological requirements to machine large parts and moulds & dies, demanding both high power removal and high-speed finishing.
Its ergonomic and compact design, manufactured in accordance with the principles of eco-friendliness, ensures easy loading/unloading while allowing for simplified maintenance.
EVER 7 milling centres cut hourly and operating costs and offer a considerable high degree of application flexibility, making them the perfect proposal for end-users looking for cutting-edge technology at reasonable costs, mainly for aeronautical and automotive applications.
Technical features
X-Axis 4000-6000-7000 mm +Δ 1500 mm
Y-Axis from 3000 to 6000 mm
Z-Axis from 1250 to 2000 mm
Speed up to 50 m/min
A wide range of heads and spindles to best meet your machining requirements:
Up to 1500 Nm for heavy-duty machining
Mechanical vertical/horizontal/fork-type twist heads
Electrospindle fork-type twist heads
Automatic head changing system (BUSS)
Cast-iron worktables, independent from the machine structure, with different loading capacities
Folding top cover with automatic opening to access work area
Wide range of tool magazines available:

Direct chain from 16 to 40 positions
Single/double chain with double gripper change arm from 48 to 96 positions
Rack type with large storage capacity for up to 300 tools and possible second change arm for double work-area

Tool cooling systems external and/or through tool and chip evacuation systems
Tool measuring and coding systems, probing systems
Work area separation into two operating zones for pendulum operation: part machining in one area and loading/unloading in masked time in the other
Automatic pallet systems
Remote surveillance systems